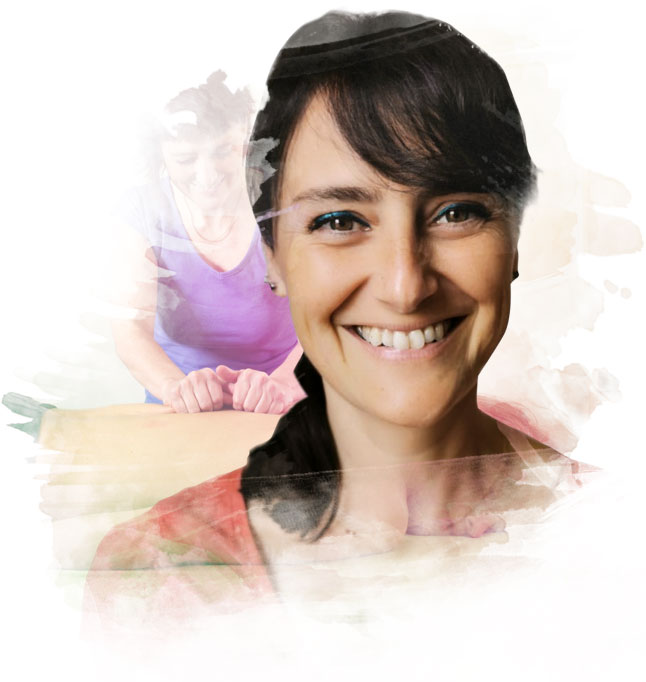 "I have always had passion for movement, interest and awareness for the body. For years I have been practicing African dance regularly, trekking in addition to snowboarding, yoga...
read more...
Hi! I'm Paola, and I can teach you to be well.
I have worked for over 20 years, both as a physiotherapist and Grinberg Method® practitioner. I do both either group and individual sessions.
The desire to discover and the determination not to limit myself to that which I have become accustomed to have always pushed me to discover new possibilities for how to overcome my daily routines. This motivation has pushed me to become a professional who works individually with clients, and to become a trainer who leads groups and workshops on the body for personal growth.
To see what my clients say of me, click here.
I am a licensed practitioner and certified trainer of the Grinberg Method®, a certified Stopping Movement® teacher, have been in business since 1999, when I opened the first professional studio for the Grinberg Method in Turin, in the Piemonte region of Italy. For several years I had been an assistant in the International professional courses of the Grinberg method, flanking various teachers and Avi Grinberg, the founder of this methodology, until I decided to become a teacher myself in 2008 and train future professionals, becoming the first Italian teacher of Grinberg method. At the moment I suspended my teaching activity to concentrate on developing my activities.
I am registered at no. 2276 of the register of the health profession of Physiotherapist
Prior to this, I had worked as a physiotherapist in many hospitals and public clinics in Piemonte, Italy, and every year I have attended trainings in the Grinberg Method® with Avi Grinberg, attending international courses in Spain, Italy, Germany, and Switzerland. I have taken and completed the five levels of his Recovery course, the physical recovery training class for the Grinberg Method®.
I live in Turin, where I do most of my business, and combining the passion for travel and the opportunity to encounter people of different backgrounds, I regularly conduct courses and workshops around Italy and Europe - Stockholm, Paris, Cuneo, Rome - teaching in English, Italian, French, bringing this methodology where it was not yet known with individual sessions and group courses.
I love being a pioneer!
I have always had passion for movement, interest and awareness for the body. For years I have been practicing African dance regularly, trekking in addition to snowboarding, yoga and in the past the martial art of Jutaijutsu, sport climbing, basketball, Tai Chi Chuan, modern dance.

I played piano since the age of five, music is part of my life, I'm always amazed how hands could be a vehicle of such power and beauty.
Hands that have also tried to do graffiti (legal, of course) but with few, very few results. I still have passion for art and street art.

I love nature, its colours and fragrances: I often spend my free time walking in the mountains, recharging me, I like to feel at one with it, I am stimulated by stacking up gradients and kilometres, being in silence.

I travel, I have friends in many different countries and this gives me a sense of freedom.

I have a flowery balcony that I take care of all year, taking care of the plants relaxes me, it's one of my forms of meditation.

I believe that the best is yet to come, just because I am alive and then because I have the desire to know what is unknown to me, to expand, to follow my curiosity.
What clients say about me
Luca Novo
"Paola helps me know my body better and has helped me control it during various moments in everyday life. It's helped me in so many ways. Thanks!"
Gloria Pasetto
"Paola's young but has so much professional experience. She's helped me to come into contact with profound parts of myself, and has contributed concretely to my healing. Much gratitude."
Elena Cesetti
"I've suffered from spinal pain for 15 long years. I've suffered headaches almost every day. I started treatment with Paola in July 2017 until November 22nd. I've not had a single headache for the past month and a half! Thanks to Paola!"